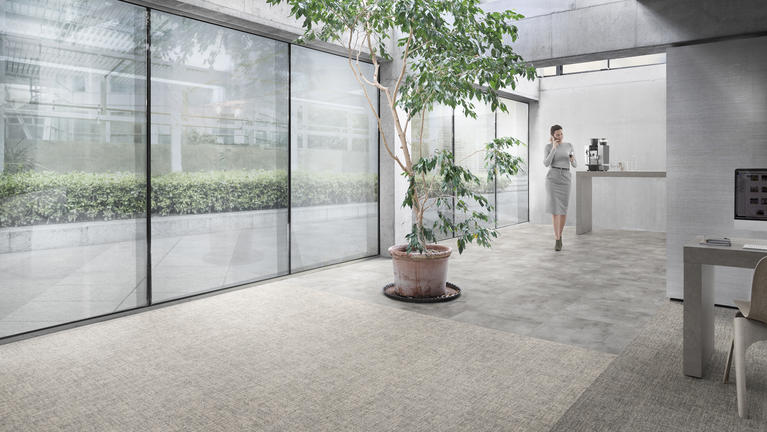 The Fit-Out Collection by Tarkett
Our new fit-out collection, pieced together to include easy-to-install products with fast delivery times, combines style with convenience for fit-out projects with tight turn around times.
A selection of five DESSO® carpet tile designs, three LVT ranges and our stunning new Segno wood collection come together to form a new design-led offering, available when and where you need it. Because each product is available from stock, it's never been easier to bring design concepts to life
Carpet Tiles
Desert
With four colours available in UK stock and additional fourteen to order, DESSO® Desert lends a feeling of vast, open spaces to the indoors with its subtly layered organic design. Like the shifting sands of the desert, 
Grain
Owing to its organic high/low pile structure, DESSO® Grain adds subtle movement to the space softening any sharp edges of the interior by introducing natural shapes. Grain is available in a range of 12 colours, with 3 available from UK stock, including neutral shades and striking colours such as bold red and grass green.
Harvest
With selected colours available from UK stock, Harvest is testament to the beautiful irregularities found in nature. Each two-tone carpet tile differs to the next and the contrast between the yarns injects texture and quiet movement into the design. The finished result reflects the rustic wood scenes and windswept wheat fields that were the creative inspiration for Harvest - conveying a calm energy that breathes new life into spaces. 
Linon
From the Ancient Greek word for Linen - our Linon collection takes inspiration from the timeless appeal and tactility of irregular woven fabrics and gives the look renewed relevance with a refreshing pop of pastel. Linon's 18-strong colour line, four of which are available from UK stock.
Orchard
Our Orchard collection, with its understated, irregular dotted pattern is reminiscent of the visual effect that is created when viewing a cluster of planted trees from above. A subtle two-tone appearance inspired by organic, seasonal shades, gives the collection a simple yet sophisticated feel for contemporary interiors. Selected colours are available from UK stock for quanitites up to 500m2.
Luxury Vinyl Tiles
Inspiration by Tarkett
With endless combinations to customise your floor, Inspiration takes interior design to a new level. Mix & match designs, play with colour shades and combine with matching accessories. Contemporary Oak Grey, English Oak Grey Beige & Contemporary Oak Brown are available from UK stock and 19 more available to order.
iD Inspiration Loose-Lay
Easy to lay and take back up again, iD Inspiration Loose-Lay perfectly adheres to the ground thanks to its patented herringbone anti-skid backing - setting new standards for easy-lay flooring. Designed for swift installation and ease of use, this collection is ideal for a reliable fast renovation. Moreover, a long product lifespan is achieved by beautiful high-quality materials which come in a palette of soft muted colours. Our Elegant Oak, Oak and Grey are available from UK stock.
iD Square
With one of the largest selections of design & colour in the market, allowing transitions with DESSO® Carpet tiles, thanks to similar thicknesses and matching designs. Three of the most popular product in the range - Cement Dark Grey, Chambray Grey Beige and Tisse Dark Grey are all available from UK stock.
Wood
Segno
Available in 5 beautiful and complementary shades of Oak, Segno offers a wide variety of decorative effects thanks to the individual plank size of 120 x 600mm.
Ideal for decorative herringbone installations, but also a number of other options which allow you to 'dare to be different' with your interior design scheme.