Create an account and benefit from:
Easy sample ordering

Access to order history

Simplified contact with Tarkett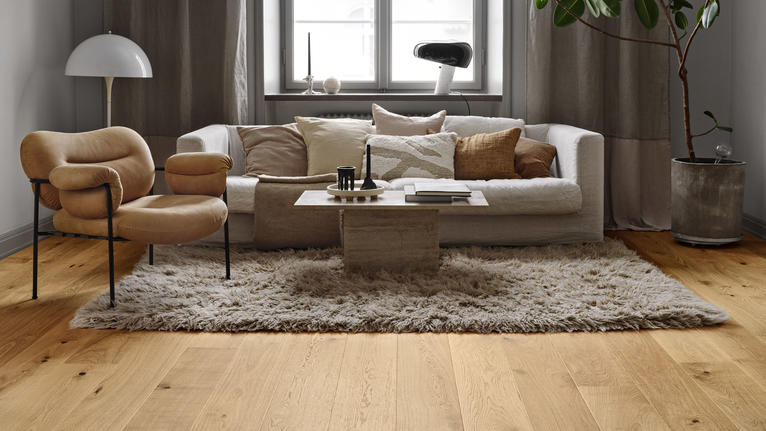 Wood
Nothing compares to the emotion of natural wood. Its beauty, strength and character bring authenticity and warmth to any interior. Equipped with a click installation system, wood floors are also easy to install and ready to use. At Tarkett, over 125 years of design expertise goes into each plank. Engineered from multiple layers of hardwood for increased stability, each floor is sealed with a lacquer or hardwax oil for improved durability and easy maintenance. More than 60% of our wood is FSC® (FSC®-C008972) or PEFC™ (PEFC™/05-35-125) certified. The majority of our parquet floors are certified by Cradle to Cradle®
Wood type
Our wood floors celebrate the charm and warmth of style and heritage with a mix on traditional with contemporary. Using only wood from sustainable and renewable sources, we add the best modern techniques to the beauty of nature. They are easy to install and designed for stability, strength and long-lasting resistance to stains and scratches. And after years of use, these environmentally friendly floors can be removed and reused or recycled.
Colours and patterns
The colour and design of your hardwood floor can vary a lot between different wood species. For example, from light and calm birch through to dark and vibrant walnut. There are, however, many other factors besides the wood species that will affect the final design and colour of your wooden floor. To simplify the decision-making process, we have spent a lot of time developing a stylish collection of beautiful and high-quality wood floor that incorporate the latest interior design and colour trends.
Surface protection
Tarkett's Proteco consists of four different surface protections with a great resistance towards wear and stains. With a lacquered floor you'll get a strong and hardy surface, whilst keeping the natural wood feel. A hard wax oiled floor demands a little more in terms of maintenance, but lifts the natural properties of the wood.
What is engineered wood flooring?
At Tarkett, our engineered wood flooring is made completely from real wood with a top layer of hard wood in a variety of species and designs and colours, including staining and heat treatment, a strong and supportive middle layer of transverse wood with fibres that contributes to the stability of the boards, and a balancing layer that stabilises the board and guarantees dimensional stability.  
Where can I use wood flooring?
Offering both contemporary and traditional designs and a wide variety of colour choices, finishes and unique features, we are confident that our beautifully crafted real wood flooring will bring style and elegance to all of your personal spaces. Our eight collections feature clean lines, simple elegance, and bold expressions to elevate your space and brings a natural beauty to any interior. Suitable for a variety of settings, including workspaces, hospitality & leisure, retail, bedrooms, bathrooms, living rooms and dining rooms to kitchens and hallways. 
Wood floor design: directions, patterns and layout
Tarkett's modular flooring range allows you to create your own patterned floor layout. In terms of direction, the general rule is to follow the direction of the light. It's easier on the eye if the boards run in the same direction as the light. If the light falls in from several angles, the rule is to follow the longest wall. For instance, our Segno collection range gives you artistic license to create your own patterned floor layout, combining our exceptional quality and finishes with a modular technology that allows for a vast range of unique pattern options. Whether you opt for a timeless herringbone pattern or create your own, Segno can take any space to its full potential. 
Cleaning both lacquered and hard wax oiled wood floors is relatively easy. Vacuuming or cleaning your wood flooring with a dry mop is all that is needed. The Tarkett Wood Floor Care Kit is perfect for this. It has a comfortable design with a telescopic handle, a microfibre cloth and a velcro fastener. 
Sometimes you may need a little liquid to remove dirt and stains. But be careful not to use too much water. Tarkett Wood Floor Spray Cleaner for lacquered floors is easy to use on these occasions, and the floor also dries more quickly. If you want to use both, we have the Tarkett Spray Mop Kit for lacquered floors with a refillable liquid container. Alternatively, if you have a hardwax oiled floor, Tarkett recommends that you use care and maintenance products from our range including Tarkett BIoclean for hardwax oil and Tarkett refresher for floors treated with hardwax oil. 
Lasting, effective and biologically degradable general cleaners include Bioclean for lacquered floors and Bioclean for hardwax oil floors, both of which can be used for regular cleaning. 
How to lay solid wood flooring
How you install your wood flooring will depend on the type of wood you have chosen and also on the type of subfloor you have: concrete, wood, carpet or tiles. Solid hardwood flooring is typically nailed or stapled to a wood subfloor. Engineered hardwood, on the other hand, can be glued down or installed as a floating floor, depending on the subfloor and the product selected.
Tarkett wood floors come in three types of locking system – 2-Lock, Ultraloc and Tongue and Groove. These systems lock the planks closely together so that they fit perfectly without gaps or uneven edges. They are also very quick and easy to use – in particular 2-Lock which makes it simpler than ever to lay wooden floors.