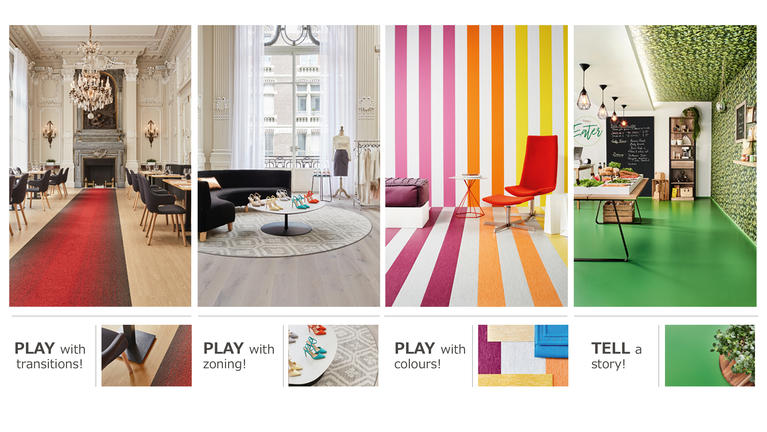 4 ways flooring can improve customer experience in retail and leisure spaces
Designing spaces to give customers the best experience possible in hotels or restaurants is a creative and commercial challenge. Tarkett's 2018 Play Magazine explores 4 modern and inspirational ways mixing and playing with flooring colours, textures and formats can help create an exceptional experience that your customers will remember:
Follow a clear path
Customers in hotels and restaurants like the experience to be easy and simple, to find their way around without getting lost or having to ask for directions. Choosing a different floor to create a path around your store or restaurant, like a red carpet for instance, is an ideal way to show your customers around and make visiting your store or restaurant a pleasant experience. Creating paths and focus areas thanks to the contrast between different flooring materials can also make a strong design statement and give your brand extra personality. Using high end flooring materials such as thick carpets or premium wood parquet helps create a very welcoming and sophisticated atmosphere. Follow the link below to see more inspirational interiors that make finding your way easy.
Tell a Story
Brands tell a story, the story of their products and the people who make them. Above all, brands sell an experience. Stores, shops or restaurants are a great opportunity for brands to make their customers participate in that story, and interior Design can strongly contribute to that. Whether your brand takes its inspiration in Nature, Travel, Innovation or Art for example, choosing and mixing the right flooring materials and colours can make your customer's experience as special as you want it to be. For instance,  linoleum floors are ideal to render a natural and authentic atmosphere. Follow the link below to see more interiors that tell a story.
Play with colours
Colours give brands personality and offer customers a more immediate and emotional experience of the brand. Choose the colours that fit best with the story you want to tell. For instance, colours have a strong impact on the moods of your customers: use orange to stimulate appetite, green to soothe, yellow to energize, blue to inspire. Mixing different bright colours in the flooring can help create an energy-packed atmosphere. Above all, colours will help your customers remember your brand. Follow the link below for more colourful interiors.
Retain your customers
Stores or restaurants have different zones, from the famous "decompression zone" in stores, to fitting rooms or the store checkout area. Using different flooring materials such as carpets for these special zones can help customers identify them and make their experience more enjoyable. More and more brands are offering customers the possibility to try clothes and shoes on at home, which means brick-and-mortar stores have a huge challenge to keep attracting and retaining them. Using different flooring materials can also attract customers to specific areas where you have positioned go-to products, or simply create a modern and welcoming atmosphere thanks to the combination of wood, laminate or luxury vinyl tiles with carpet. Follow the link below to see more examples of how interiors can attract and retain customers.
If you're inspired by a specific flooring combination, visit the product page on our website and get more information on technical flooring installation instructions.

Browse Tarkett's 2018 Play Magazine to see stunning retail, restaurant or hotel interiors and get more inspiration to impact customer experience using interior design.