AirMaster - Protecting your staff and students
Indoor air quality has never been more important
The COVID-19 pandemic has been incredibly challenging and stressful for both staff and students in education facilities across the UK. Not only have institutions been forced to digitally transform, almost overnight, to enable remote learning, a variety of stringent safety measures have had to be implemented to protect those that remain in the classroom. So how can Tarkett help?
A recent Harvard University study from April 2020 has found that even small increases in long-term exposure to fine dust and particles in the air can increase the risk of serious complications from COVID-19.
What's even more alarming is that indoor air quality can be 2 to 5 times more polluted with invisible particles than outdoor air, as there is a risk that the particles keep on circulating until they are inhaled.
Add to this that 1 in 11 children in the UK suffer from asthma (this is more than any other country in Europe) and knowing air pollution is a major cause of asthma attacks - we have a significant problem that needs addressing.  
CONTACT ONE OF OUR SPECIALISTS NOW TO FIND OUT HOW YOU CAN IMPROVE THE AIR QUALITY FOR YOUR STAFF AND STUDENTS 
How can you improve indoor air quality?
There are a number of simple and easy solutions to improve indoor air quality that you can implement - opening widows to provide a fresh flow of air, vacuuming more frequently to capture pollutants that have fallen to the ground and incorporating indoor plants will all help to reduce the number of invisible particles that circulate the air, which may then be inhaled, potentially causing damage to your health.
Another way of improving indoor air quality is DESSO AirMaster.  For the past 10 years the carpet has been installed in a variety of environments and has proven to be at least at least 4 times better than your standard carpet at retaining fine dust and invisible particles. Furthermore, the DESSO AirMaster is 8 times (in some tests up to 20 times) more effective than smooth flooring at capturing and retaining airborne particles. 
Impressively, it is the world's first product to be awarded the GUI Gold Plus label, the highest possible accreditation granted by Germany's leading independent air quality testing organisation (GUI).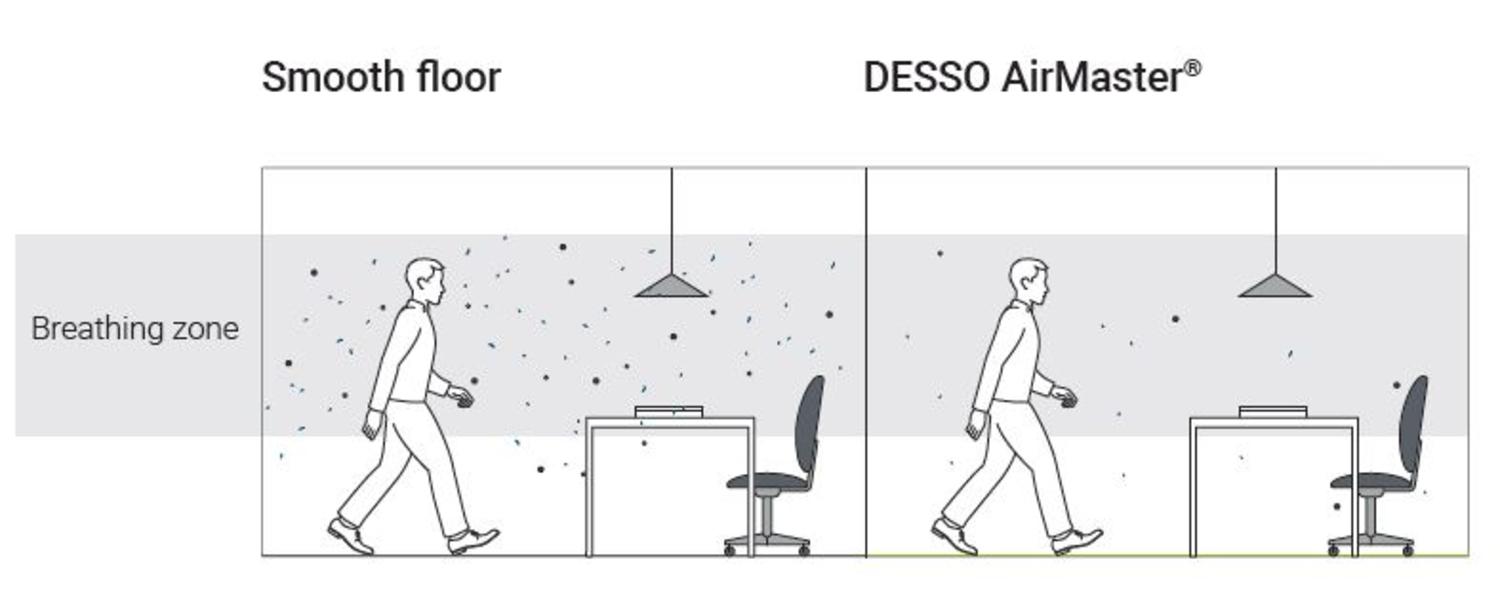 What happens with the particles?
Not only is DESSO AirMaster better at capturing harmful particles floating around in the air, it is also better at releasing them into the vacuum cleaner during regular cleaning. 
At least 80% of the captured dust is released when the carpet is being vacuumed – 16% more than regular carpets – which means that the particles are gone by the end of the day following your daily cleaning regime and you can come back the following morning to a healthier classroom. 
As good for the environment as it is for your health
At Tarkett, we believe in Doing Good. Together. In 2019 we launched our latest innovation within the AirMaster collection – AirMaster Gold, a true marvel when it comes to sustainability and human health, which has been certified Cradle to Cradle Gold.  In addition to this, all of our AirMaster ranges utilise our Cradle to Cradle Gold certified EcoBase backing as standard. 
Thanks to our ReStart Programme, we can recycle and re-purpose your old carpet tiles at our in-house recycling facility. Here the yarn is separated from the backing and both components are re-engineered in order to be used again, enabling us to move towards a fully circular economy.

Is DESSO AirMaster the right solution for you?
Whilst improving the indoor air quality of your education establishment can help benefit the health of both your staff and students, there are many more reasons as to why you might want to consider DESSO AirMaster.
Read the full brochure through the link below, or discuss with one of our specialists on how you can improve the air quality for you and your colleagues. 
DISCUSS WITH ONE OF OUR SPECIALISTS HOW YOU CAN IMPROVE THE AIR QUALITY FOR YOU AND YOUR COLLEAGUES