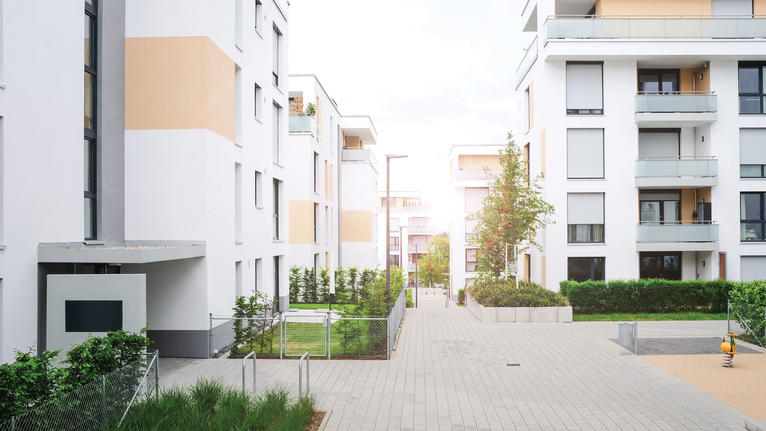 Reimagining Cities: Discover how to transform Collective Housing to meet new expected ways of life in cities
In light of the COVID-19 public health crisis there has been a shift in the desires and requirements of city dwellers. The pandemic has not only accelerated emerging real estate trends, but fundamentally changed how people live, work, rest and play in the place they call 'home'.
Developing a deep, human understanding of peoples' needs underpins everything we do. It drives our entire design philosophy with sustainability and good material always at the heart. We call it Tarkett Human-Conscious Design™. In a new report, we explore how we can respond to the changing priorities of owners, occupiers and investors alike. Showing how innovative collective housing concepts can help enhance city living in sustainable, creative & responsible ways that carefully manage the all-important balance between people and planet.
Here we give you an overview of how research suggests the pandemic has made people re-evaluate their surroundings and realign their consumer values.
Re-thinking Real Estate
People want more greenery, less congestion and a greater sense of community.

Statistics show some are starting to retreat to the suburbs in search of a better quality of life, but for many this simply isn't an option. Perhaps for economic reasons, they must stay in the city. Though with much wider acceptance of home working the daily commute has become less of an issue. People are making lifestyle changes and, when it comes to choosing somewhere to live, highly amenitised schemes that marry convenience, community and the opportunity to be more environmentally responsible have the widest appeal.
Forward-thinking real estate companies are re-imagining collective housing to create vibrant, regenerative communities. Typically these are made up of separate houses or flats within one building. Sometimes several buildings can stand together within a complex, sharing resources and some common facilities. Often built using modern methods of construction, with materials shown to minimise carbon footprint and furnished with interior solutions that satisfy strong environmental credentials, they offer a new way of city living that is more sustainable on every level.
This is important because, while pride stands out as the core emotion having the biggest impact on how happy we are with our home, today's consumers take pride in much more than where they live. How they live and the wider social and environmental impact of the choices we make are becoming increasingly important.
In this report we show how real estate promoters can tap into this growing public consciousness - by demonstrating a strong sustainability stance, choosing only responsibly made, healthy materials and confidently guiding owners and occupiers in their decision making.
Five ways collective housing can transform city living, for the better
People want more from where they live: The pandemic is accelerating socioeconomic trends. City living is losing its appeal as people want more greenery, less congestion and a greater sense of community.
Sustainability and social impact are important: People are making more conscious choices about how they live and more wary of products credential claims. Greener buildings with reliably accredited components will help differentiate new property developments.
Community has social, environmental and economic benefits: Innovative collective housing concepts are helping city dwellers to reimagine urban living, centred on thriving, regenerative communities.
Spaciousness and adaptability matter most: Housing units that provide light, airy spaces, embrace fluidity and envelope people in nature are highly sought after. Modular concepts that can cleverly adapt to accommodate home offices, play spaces, exercise zones and more will win out.
Consumers want choices that align with their values: Offering a portfolio of products and solutions that allow the personalisation of space, using only sustainable, healthy materials from responsible partners helps set schemes apart in highly profitable ways.
Ultimately, we must work together to reverse the trends taking people away from cities. We know urban living has to change in order to meet the modern buyer's needs and that these needs are now more far-reaching than ever before.

Keeping these key takeaways in mind as we move forwards will help us to deliver housing that reflects individual desires as well as wider collective needs. Creating happier, healthier, thriving communities that feel proud and invested in the place they call 'home'.