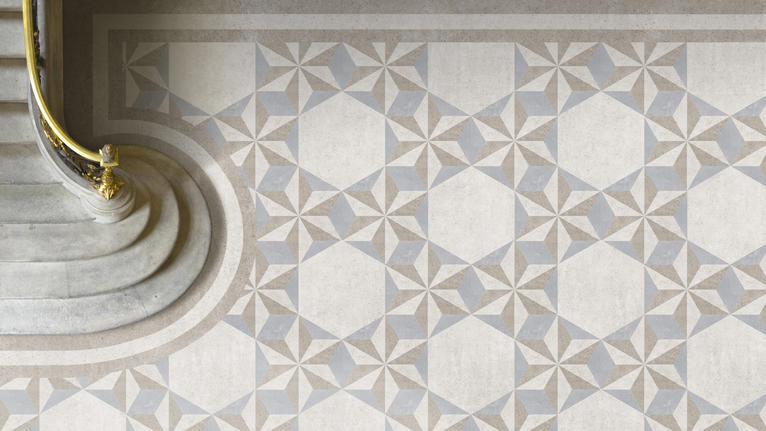 Design your bespoke flooring with Floorcraft, our sonic cutting customisation service
From stylishly sleek to impressively intricate, our Floorcraft sonic-cutting customisation service brings shape to your most complex bespoke projects contributing its love of fine craftsmanship and design expertise.
Our floors are sonic cut to a design and pieced together before being protected with an adhesive film. Most of our resilient floorings including Luxury vinyl tiles, Linoleum, Homogenous and Heterogeneous floors are suitable for Floorcraft bespoke flooring solutions.

Discover Floorcraft's full potential Floorcraft is about creativity and imagination. See how one single shape can be transformed into different layouts by playing with orientation and colours


Celebrate design and craftsmanship
Floorcraft provides the foundation for a new avantgarde by channeling marquetry to a new craftsmanship that is modern to the core. Thus combining exhilarating colours and materials into traditional and modern patterns to create exclusive works of art with bespoke design floors.
Bring life to your bespoke projects
You imagine your unique creation and we make it for you!
Tailored to meet your vision, our Floorcraft service takes you step by step through the design of your own unique flooring with an acute sense of attention to detail.
All designs are scalable to fit any space, so there is no limit to the size of a custom design flooring.
Browse through our Floorcraft library to save time
Floorcraft is also about providing you with an ever greater choice through our predefined shapes library to save you time.
Choose your shapes, your floorings and colours and create your layout with the support of our Floocraft design team.