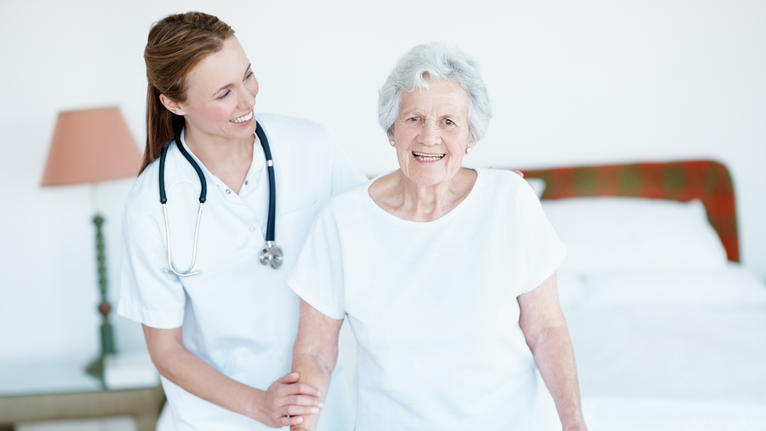 Designing facilities for Alzheimer's and dementia patients
Creating a suitable environment for Alzheimer's patients
Colour, design, light and acoustics are the essential parameters to consider in designing an Alzheimer's unit. It is important that the architectural design stage incorporates these criteria into the choice of flooring.
" A good floor space for older people, and particularly those with dementia, allows and encourages activities, involvement, loyalty, comfort and ultimately identity in a positive way. People with dementia need to feel that every detail is designed to generate well-being. The floor is key to the environment. " Prof. Dipl.-Ing. Rudolf Schricker, President BDIA
A technical added value
Flooring can be a decisive factor in spaces designed for people with Alzheimer's. It has real technical added value and helps to provide Alzheimer's patients with a suitable environment in terms of acoustics, hygiene and safety.
A psychological and sensory contribution
The flooring also offers added value at a psychological and sensory level. In particular, colours and patterns can reassure patients and give them confidence, and also help to relieve the upset of a new environment by making them feel "at home".
Colours and patterns on the floor to help patient's orientation
" Markings on the floor can be used as a guide for ambulation and to mark out a route. The areas where the patient can walk and access points should be clearly marked." Prof. Cornel Sieber, Director of the Institute for Biomedicine of Ageing, Nuremberg University, Germany
Patients with Alzheimer's experience disorientation, particularly in the later stages of the disease. Because of this, it is essential to create a sense of familiarity and comfort that will make it easier for them to move between the different living spaces. The flooring has an important role to play in providing patients with spatial markers.
Different floorings can be chosen according to the type of room or movement, but also the specific needs of the patient and care staff.
Patient rooms: slightly contrasting colours

Communal areas: medium contrasts

Corridors: single colour
In general, pastel colours with little or no pattern should be used to avoid the risk of hallucinations and  glittering-effects should be avoided as they can give the impression of walking on water.
Floor colours to avoid in Alzheimer's units:
Sharp and electric colours can cause agitation and confusion

Dark colours can mimic an obstacle

Very light colours can be blinding
Familiar flooring patterns to reassure and feel at home in a specialized unit
Alzheimer's disease and dementia are characterised by memory loss but flooring may help stimulate memories by re-creating home-like spaces using design and patterns.
For example, designs such as wood, traditional hexagonal tiles or square tiles may have a familiar reference for the patient, reminding them of home or evoking childhood memories, helping to make them feel 'at home'.
By contrast, certain patterns could disturb or confuse patients : large stripes, repetitive geometric pattern,; flakes of strongly contrasting colours, typographical motifs and imitations of natural materials such as grass, pebbles, etc.
Keeping the noise down to reduce the anxiety of being in a healthcare facility
Noise can be a source of anxiety, particularly in the advanced stages of Alzheimer's. By using absorbent partitions and acoustic flooring specially designed to reduce the clang of falling objects and the sound of footsteps, noise is kept down to a minimum and the comfort of patients and care staff is ensured.
Download our practical guide
To learn more about designing for Alzheimer's care facilities and for our floor recommendations —including how to emphasise intimacy and memory, how to maintain a healthy sleeping schedule, and how to use light to improve well-being—download our Designing Alzheimer's Facilities guide.