Create an account and benefit from:
Easy sample ordering

Access to order history

Simplified contact with Tarkett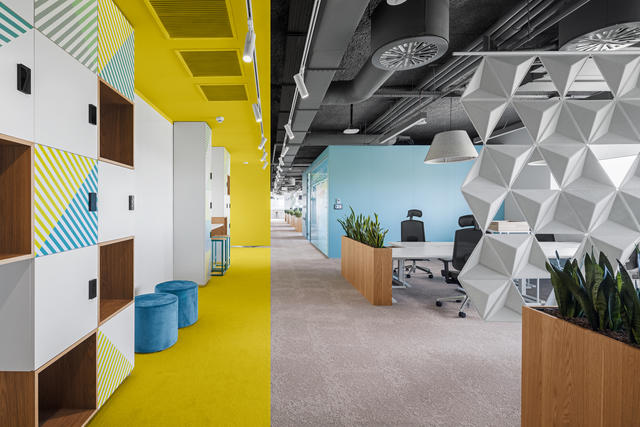 ING Bank's Katowice Office
2021 | Katowice, Poland
Since the COVID-19 pandemic, offices and work areas are drastically changing. Open spaces are now merging with meeting rooms and relaxation areas.  However, because of the demanding pandemic restrictions – increased distance between employees, new desk layouts, or even reorganizing common areas – designing such a space, has become a significant challenge.
The Maleccy studio, an architecture firm in Poland, needed to consider all of these factors when designing the ING Bank's office in Katowice, Poland, last September.
The studio decided to create a unique yet joyful space with a bold and energetic colour scheme. A large variety of spatial and graphic forms, as well as an eclectic mixture of furniture and decorative objects, were used to create a whole new look for the office. Bright and colourful floors, along with graphic and geometric patterns, provide character and panache to the interior. Creating such a lively atmosphere was especially important, because after months of working remotely, the bank wanted to welcome its employees back to a friendly and dynamic office space.
The architects prioritized good indoor air quality, so they carefully selected some of Tarkett's finest floor coverings. They installed carpet tiles from the DESSO Arable, Stratos and Palatino collections that go seamlessly with the Acczent Excellence 80 vinyl flooring, covering a total of 1,700 square meters.
Overall the project was a great success.
Making conscious choices. For people and planet.
Tarkett Human-Conscious DesignTM.
About
Read about the newly renovated ING Bank's office in Katowice, Poland and how Tarkett's DESSO Arable, Stratos and Palatino, and Acczent Excellence 80 collections spruced up the space.
Designer/ Architect
Małeccy Studio