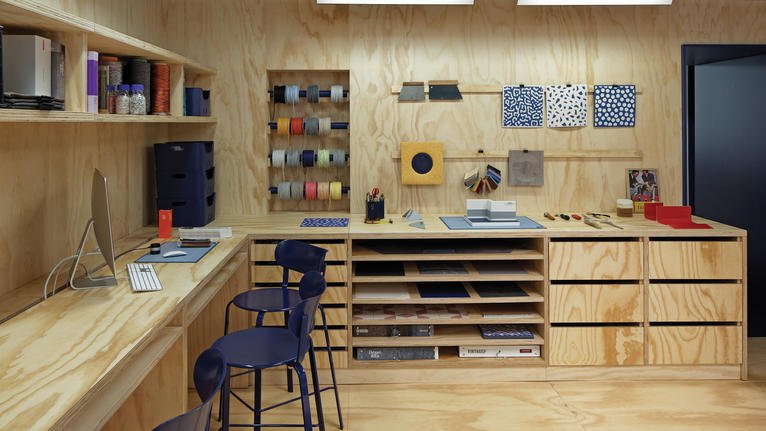 Our Customisation services
Inspired by collaborative design, our customisation services include our customers in the creative process to shape customised, flexible and modular flooring experiences. We believe interacting with our customers creates value.
Online flooring designer
Some of our flooring collections offer unlimited creative possibilities thanks to their modularity. Modular vinyl tile collections such as iD Mixonomi and iD Supernature & Tattoo are made to be customised.
Our online flooring designer is a free and web-based tool that assists our customers in the creation of custom-made flooring patterns.
Floorcraft, sonic-cutting customisation service
noun: cutting and assembling technique of Tarkett materials, made available to specifiers for bespoke projects, for scalable bespoke projects to fit any space.
Tarkett is one of the few companies to use the sonic cutting machines ensuring advanced technical sophistication and extreme accuracy.
Our floors are sonic cut to a design and pieced together before being protected with an adhesive film. Your floor is delivered ready to install!

Most of our Luxury vinyl tiles, Homogenous and Heterogeneous vinyl floors are suitable for Floorcraft design solutions.
 
Atelier Tarkett, Paris
Entirely dedicated to architects and designers, Atelier Tarkett is a unique service, both in terms of concept and approach to materials. Tarkett collaborated with 5.5 design studio to imagine Atelier Tarkett as an extension to the studios of architects and designers. It is an environment where creative professionals can share ideas in a stimulating space, engage in customisation practices by consulting experts and fast-track their projects by exploring the materials' possibilities and the creative potential of the brand's solutions and flooring products.
Carpet Design Center™
In our Carpet Design Centre located in Waalwijk (The Netherlands), we work together with our clients to enable them to tap into their own creativity by adding their own signature style to the floor and by involving them in the manufacturing process. It means that our customers are in the center of the creative process, and that together we will create a product that meets the specific needs of our customers.
Next to that, they can take advantage of the expertise offered by an experienced team of textile designers and technicians as well as a pool of specialist machinery.
Design Centre Collections
The Design Centre Collections are specially developed collections that consist of special ranges of designs and colours in addition to our extensive, standard collections. The Design Centre Collections are made on demand and are unique for every customer.