Create an account and benefit from:
Easy sample ordering

Access to order history

Simplified contact with Tarkett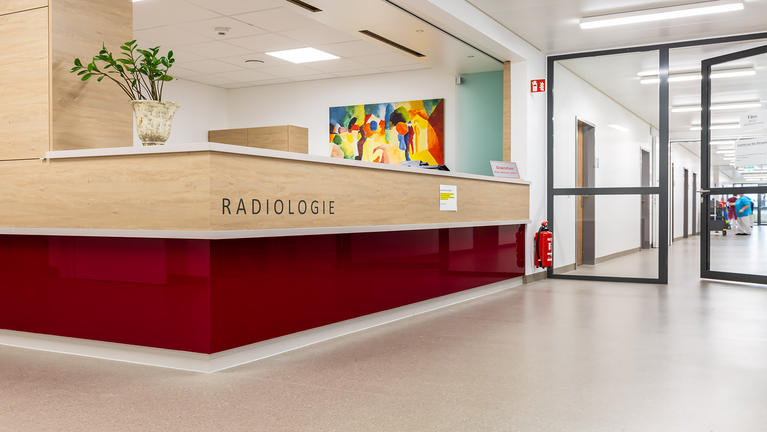 Rhon-Klinikum Healthcare & Geriatric Centre
2018 | Bad Neustadt, Germany
HEALTHCARE AND GERIATRIC CARE
Hybrid operating theatres with imaging equipment, robot-based X-ray technology and digital tools, such as, the Medical Cockpit are only some of the many innovative components of the RHÖN-KLINIKUM Campus Bad Neustadt. After removing the existing IQ Granit, Accent Excellence & Eclipse Premium flooring, just under 60,000m² of floor space on the campus was covered in a resilient, easy-maintenance and hygienically sound flooring. Soil is also being considered as an option for the overall concept of this future-oriented design, provided of course, that all hygiene standards regarding infection protection and air purity are met. "The strict hygienic conditions severely limited the selection of suppliers from the beginning," explains graduate engineer Katharina Dickas, from the architecture firm B. Kriesche, based in Bad Neustadt. "We were all so happy to be able to call Tarkett, an experienced specialist in flooring solutions. After all, almost 60,000m² of floor space was waiting for a safe, durable, comfortable, easy-maintenance and, above all, hygienically sound flooring."
IQ Granit was used for 25,000m² of floor space in the operating theaters, the intensive care unit and in the corridors. The almost 7,000m² of office space, dining rooms and reception area were equipped with Accent Excellence and the 23,500m² of patient rooms and functional rooms were installed with the Eclipse Premium collection.
About
See our project for this healthcare and geriatric centre in Bad Neustadt, Germany, with 25,000m2 of iQ Granit, 7,000m2 of Acczent Excellence, and Eclipse Premium.
Designer/ Architect
Katharina Dickas / B. Kriesche Firm
Building owner
Rhön Klinikum