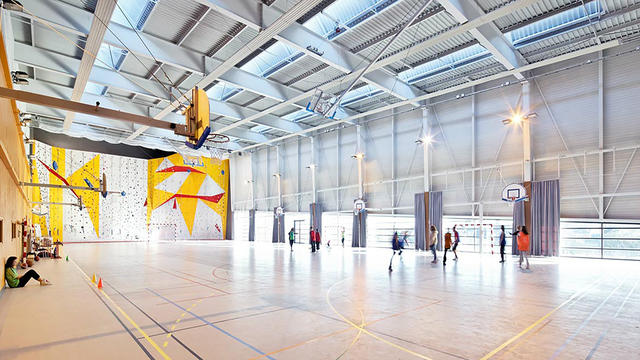 We offer a complete range of sports floor solutions for all levels of sporting practice – from multi-use halls in schools to competition level arenas.
Sporting venues, leisure centres, gyms and school sports halls offer a healthy and increasingly important outlet for people of all ages to exercise, have fun and attain their personal fitness goals.
Correct flooring solutions play a huge roll in the safety, comfort and athletic performance of its users. From vinyl to linoleum, to wood and sprung surfaces, we offer a full range of sports solutions to fulfil all sporting requirements.
Our mission is to offer sustainable sports surfaces that make the difference in athletic performance, for both public and private facilities; from local community club games to international certified areas.
Play to Win, learn more about our indoor sports floors through our Indoor Sports Solution Guide.
A Solution For Every Space
There are several factors to consider when looking to install a new sports floor in a multi-use sports hall: initial cost, performance characteristics, durability, sporting and non sporting usage, comfort levels, compliance, maintenance and of course life-cycle costs.
Sport Specific Sports Hall
Whether it's a basketball surface, a roller, handisports, table tennis or dance floor you're in need of, we have a wide range of sport specific floors to meet your athletes needs.
Fitness Areas & Wellbeing
Gyms, fitness and wellness centres provide a healthy outlet for people to stay fit and feel good about themselves and in some instance they are providing rehabilitation. It's important to offer the right amount of protection for the right activity.
Used by Australian Ballet since 1981 and by Montreal Ballet Academy since 2018, Dancefloor is the ideal solution due to its specific finish which assures confident footing while providing comfort.
When it comes to Changing Areas, safety has to be the number one priority - keeping your members and staff safe and avoiding trips, slips and falls in possible wet areas is paramount.
Reception & Circulatory areas
You only have one chance to make a first impression, so receptions and common areas for fitness clubs, gyms and sport arenas should be clean, welcoming and impactful, but also represent the brand.
Administrative areas provide a calm working environment away from the hustle and bustle of reception areas or noisy fitness suites. Providing a serene and clean environment conducive to productivity will allow for better management and also provide a private areas for staff meetings.
Cafeterias and clubhouses provide an area for members and players to relax, recoup and converse and can often become the heart of a venue. Floors should contribute to an attractive, comfortable and hygienic environment while at the same time comply with health and safety regulations.
Not all environments have the space for a dedicated sports hall, particularly within an education setting where the main school hall can act as the cafeteria, assembly area, examination hall and rainy day playtime area. A community hall not only acts as a local fitness studio but also serves as a polling station.
With a wide range of flooring solutions, meeting the utmost sports performances, Tarkett Sports helps you throughout your renovation or new building project.
Our absolute priority is to meet sportsmen and women's expectations, in their different playing environments. That's why we are continuously working with international sports bodies and improving our sports surfaces.
Our expertise enables Tarkett Sports to provide flooring solutions, which target the specific design and performance requirements of different profiles of athletes, across a range of physical activities.
References within sport & leisure