Create an account and benefit from:
Easy sample ordering

Access to order history

Simplified contact with Tarkett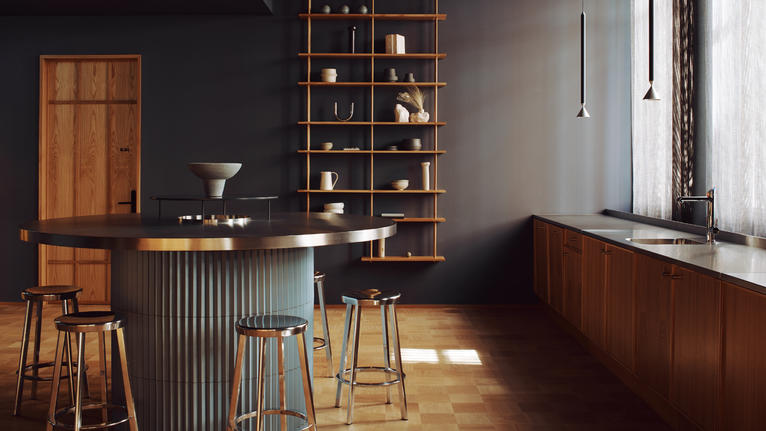 Summit House
2020 | London, UK
Before the renovation, Summit House, an office building in Holborn, Central London, was a mid-twentieth century building with a symmetrical, elegant and beautiful facade, decorated with art deco motifs. The interior, however, was bathed in a cold monotonous light and enclosed by plain, plastered walls.
So, when the Swedish design studio, Note, was commissioned by The Office Group to renovate Summit House, they designed the building with a Swedish aesthetic and mentality, also known as, Swedish Grace. The term Swedish Grace was coined by the British journalist Philip Morton Shand, after his review of the 1925 Paris Exposition des Arts Décoratifs. He was so disappointed by the British pavilion and so touched by the Swedish one, designed by the architect Carl Bergsten, that he described his work as God's gift.
Johannes Karlström, Interior Designer and co-founder of Note, talks about the project:
"The facade was extremely elegant and we wanted to create an interior that mirrored the exterior. Using Swedish Grace as a source of inspiration felt like the right starting point. Influenced by art deco and neo-classicism, the Swedish Grace aesthetic was perfect for this building. In Holborn, there are many law, finance and security offices, that present a more formal and reserved appearance. The Office Group pointed out that this is important to take into account when deciding the design of the building. So we went with a modern interpretation of Swedish Grace, in order to create only a subtle contrast to the area's ambiance.
Central London has a big-city buzz, which is nice but can also be a bit too busy. To complement that city feel, we wanted to create a place where you can slow down and take a minute to breathe. You might say, that this is very Swedish of us, and you would be right, but we do believe that a place where things have time to develop and grow, yields better results. We also wanted to do something different to other coworking spaces, where you can find quotes like "Work Hard, Play Hard" on the walls.
We started with the entrance, where the elongated space of the reception area was segmented by a tiered design that frames the space and calls attention to the Birdseye Maple reception desk. We wanted this area to be the continuation of the symmetrical facade. We were inspired by the geometric influences found in Swedish Grace and by the director Wes Anderson's symmetrical style.
Once you enter the space, the elegant décor is warm and welcoming— less like a neutral office and more like an inviting home. Only top-quality materials were used creating a feeling of exclusivity, elegance and sophistication. We used an earth-toned colour palette inspired by Stockholm buildings from the early 20th century, with colours, such as sienna, ocher and umbra.
The main materials chosen for this project were oak, steel, terrazzo – and in some places in our own design. For the meeting rooms and quiet spaces, where it is conventional to use clear, ribbed or frosted glass, we decided to install chinchilla glass. It has a nice, subtle and furry structure with an impressive light refraction that makes it clear enough to see through, without revealing too many details.
In the past, we have consistently used Tarkett's Noble Oak flooring. It has a classic parquet pattern that is easy to work with because it has no specific direction. Oak is the connecting material between spaces since we used oak to frame the glass, for the doors and the floors. It was a bold choice for London to install wooden floors in a kitchen for example, since it is uncommon to use such a material for such a space, but this is less true for us Swedes.
Now when you come to Summit House to work, there is a lively, yet dignified and calm energy. There is a lot of movement, but naturally people tend to talk more quietly when they enter the space. No one runs around with a headset - there is a calm focus."
photographers: Michael Sinclair – Andrew Meredith
Making conscious choices. For people and the planet.
Tarkett Human-Conscious DesignTM
About
Discover the Summit House, an office building in Holborn, central London, renovated by Swedish Design Studio Note for the coworking actor The Office Group.
Designer/ Architect
Note Design Studio
Building owner
The Office Group