Create an account and benefit from:
Easy sample ordering

Access to order history

Simplified contact with Tarkett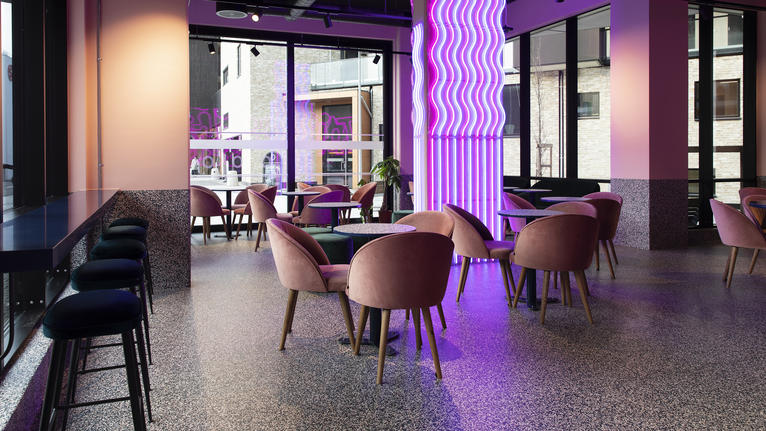 Talormade
2020 | Oslo, Norway
CREATING A BRAND IDENTITY
Talor Browne is the entrepreneur behind Talormade. She is an Australian barista who now lives in Norway and together with her team, runs a coffee distillery and production site at Lillo Gård in Oslo.
In Fall 2019, Talor and her team, together with the interior architect Darrel Shrubb, began the creative process of designing the new production facility and choosing a brand identity that perfectly represents the space. They strongly identified with the concept of professional playfulness. They wanted to create a warm and fun atmosphere, where there was always plenty of colourful baked goods and delicious warm coffee, in the hope that Talormade become the local meeting spot for the community, and it did. 
Inspired by an article in OBOS Magasinet about Bielke & Yang's redesign in 2019 displaying terrazzo-inspired floors, the team chose Tarkett's iQ Surface. This homogeneous vinyl flooring is the result of a creative collaboration between Tarkett and the Swedish Note Design Studio. It is a durable and flexible vinyl material that offers various interpretations of use.
Function, colour and shape are all equally important in this collection, which is why it perfectly corresponds with Talormade's new brand identity of professional playfulness. As an adaptable flooring it was installed everywhere, from the floors to the coffee tables and in Talor's favorite colours– pink, green and blue. Furthermore, to the delight of the staff and guests, the technical features contribute to a comfortable working environment, creating an inviting and pleasant atmosphere.
COMMITTED TO THE ENVIRONMENT
iQ surface is a sustainable flooring, which is important for Talor, because the coffee and food production at Talormade is eco-responsible and she wanted a flooring that represented their commitment to the environment:
I wanted to find a flooring material that was environmentally conscious, without sacrificing the aesthetic, because it is a big part of what we do.
Tarkett's iQ collections are known for their functional and technical properties. They are durable, flexible and easy to maintain. Specifically, the iQ Surface collection, is unique for its designs, but also because it can be recycled for reuse.
Sustainability and a circular economy are core issues for Tarkett, who participates in various eco-friendly programs and initiatives. Two examples are The ReStart® program, which is dedicated to the collection of post-installation and post-consumer flooring for recycling and future reuse, and the innovative initiative at the Ronneby Plant, which produces new floors from recycled vinyl floorings.
About
Discover Talormade, an exciting distillery and donut production site in Oslo, Norway that opened in February 2020, where iQ Surface vinyl floors were installed.
Designer/ Architect
Darrel Shrubb & Talor Browne