Create an account and benefit from:
Easy sample ordering

Access to order history

Simplified contact with Tarkett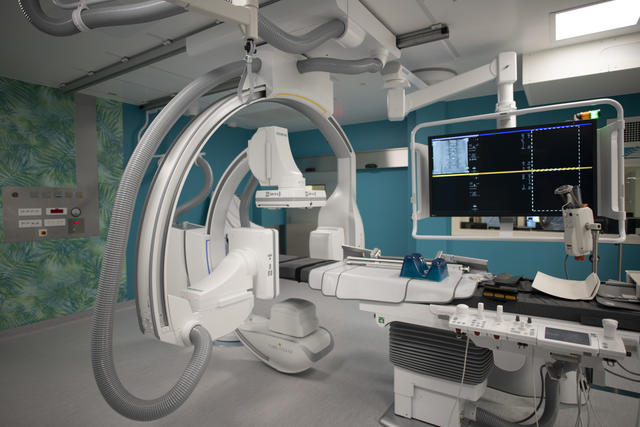 The Poitiers University Hospital: New Technology and Design Challenge
2020 | Poitiers , France
Tarkett provided the floor and wall coverings for the new biplane interventional imaging room at the Poitiers University Hospital. This new, state-of-the-art space was designed to provide the latest technology for its patients and a more comfortable working environment for its caregivers.

Interview with Claire Duverger-Darré, Engineer and Eric Imbert, Technical Director, Poitiers University Hospital, on the new imaging room:

Can you please tell us more about this new room and explain to us what a biplane interventional imaging room is in a few words?
Having a biplane room today is not exceptional. Sixteen years ago, we were the first hospital to build one in France. Since then, this technology has spread widely. What is exceptional though, is to have equipped the biplane room with an interventional MRI scanner and once again, be the first ones to do this in France.
How it works: There is a first space that includes biplane radiology equipment— this technology uses two rotating cameras that revolve around the patient to take live X-ray images on two different planes that then guide the doctor during a surgical procedure. The second space has a mobile radiology scanner that is placed on magnetic rails. The two spaces are separated by a large sliding door. This setup makes it easy to move the patient from one space to another during a surgical procedure, if necessary. The patient stays on her bed and is rotated 90 degrees, while the scanner slides on the magnetic rails and is positioned near the patient. The mobile radiology scanner is expected to be used 80% of the time and the biplane radiology equipment and the mobile radiology scanner are expected to be used together 20% of the time.
For the installation of these magnetic rails, the floor level had to be raised by 10 centimeters. Metal beams were added to the underside of the floor slab in order to strengthen the floor structure and for a better weight distribution. The mobile radiology scanner and the biplane radiology equipment do not come in contact with or affect the flooring, so iQ Optima of the classic PVC range was chosen, since there was no need for a conductive or static-dissipative flooring.
Why did you choose a homogeneous flooring for the floor and a ProtectWall covering for the wall?
When making our choice we took two important details into account – quality and aesthetics. Quality first! We have been using Tarkett floors for many years, so we are very familiar with the finished look and quality of its products, and we are always very impressed. The aesthetics of this unique, high-tech room is also very important because it will showcase the innovative potential of the Poitiers University Hospital and its partner Siemens. This is why we felt that the classic colour codes, such as neutral grays and blues, were not an option and chose bold colours instead.
Why did you choose Tarkett's ProtectWall Jungle? Did you want to use biophilic design for the new space?

Architecturally speaking, this room is smaller than the previous one. The nature décor helped create an impression of openness and depth. The only neutral colour used was for the floor, in order to highlight the walls. During the renovation process we presented the healthcare staff with colour samples of the different Tarkett ranges. We wanted them to approve the bold, modern and trendy colours we selected, so that they can be a part of the process and feel good in the new room.
 
Do your IPC nurses play a role in the decision making process?
Yes, of course. The IPC teams are always consulted on what materials to choose. They often ask us for samples, in order to do cleaning tests (on stains from Pyodine, Betadine, or other such products). It is a team effort and like with any team, there is always a consensus. For this room it was the color choice and hygiene properties.
Did the environmental criteria of Tarkett products play a role when choosing the materials?
Yes. Mostly globally, but especially during the operational phase of the project. Sustainability is taken into account, but is not a deciding factor, unlike durability, which is paramount when choosing a floor covering.

Do you test indoor air quality?
Indoor air quality has been tested and approved in terms of filtration, with an ISO 7 rating. VOC emissions are not measured. Nevertheless, it is a particularly important parameter in highly sensitive spaces, such as the pediatric and neonatology departments, as well as the IVF laboratory, where we are currently required to, and are working on reducing VOC emissions. Our public health department is constantly researching and analyzing these elements and the impact they have.
Have you had any feedback on the design of this room from the doctors and/or hospital staff who use it?
During the renovation, we asked the healthcare staff, operators and managers what they thought about the new room and everyone was pleased! We are now even more convinced that we made the right choice. There was one surgeon, who did not understand why we decided to go from pastel colours to more bold colours, however, after seeing the results, he was pleasantly surprised. Sometimes you just need to shake things up a bit.
Any closing words?
After having used this new room for a few months, we can proudly say that this new biplane interventional imaging room is a success in terms of technicity, aesthetics and use.

Making conscious choices. For people and the planet.
Tarkett Human-Conscious DesignTM
 
About
Read more about our commercial flooring project with Poitiers University Hospital in France, with iQ Optima vinyl flooring and ProtectWall wall solutions.
Designer/ Architect
CHU Poitiers