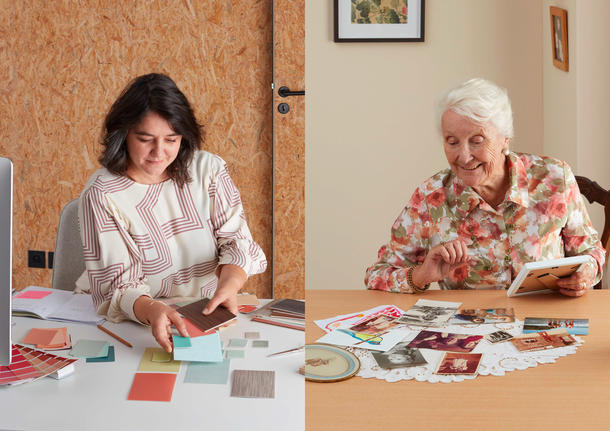 Designing dementia-friendly spaces
It is important to remember that, in an ageing population, a significant number of people have to cope with dementia as well as declining faculties. Memory problems, difficulty processing information and impaired communication are among dementia's primary consequences. These are often accompanied by declining vision, trouble in recognising surroundings or perceiving objects three-dimensionally.
Using design to lessen the impacts of old age and dementia will significantly improve the quality of life for everyone affected.
When it comes to creating living spaces for the elderly, any interior design scheme must conform with technical standards while also providing a comfortable, reassuring environment to live in.
To better understand and experience challenges of dementia-friendly design, try THROUGH THEIR EYE, our virtual reality empathy platform that enables users to immerse themselves within a care home environment and experience the impact of interior design and flooring choices on people with Dementia.
Dementia-friendly design principles are based on the use of adapted patterns, contrast and colour to make an environment easier to perceive for the elderly and particularly those with dementia.
Here are some DO'S and DON'T:
USE plain patterns, material effects with subtle patterns.
CHOOSE wood designs with a subtle grain and no knots, compliant with dementia guidelines
AVOID busy patterns, dark colours and high‑contrast designs
MIX different designs and colours to create dementia-friendly combinations 
USE contrast between floors and walls to enhance 3D perception
HARNESS Light Reflectance Value (LRV) to create pathways or isolate potential risks 
DON'T create visual barriers that would discourage movement
We have created a guide to give architects, designers and care home managers, who create elderly care environments, a clearer understanding of the changes caused by ageing, especially when combined with dementia. Our aim is to help make those environments as supportive as possible, with flooring as a key element.
Tarkett's dementia-friendly floors
With this in mind, our designers create dementia-friendly floors and walls that will not aggravate difficulties or anxiety and that improve orientation and spatial perception, enabling elderly people to get around more easily and manage better on their own.
Floors that convey warmth and reassurance, their designs helping to generate a sense of well-being.
The pattern and design of our dementia-friendly floors and walls have been assessed by the University of
Stirling's Dementia Services Development Centre (DSDC) and rated 1a or 1b (the most suitable for people with dementia)
1a: Finishes within this rating are plain and can be used freely.
1b: Finishes within this rating are semi-plain (minimal texture or fleck and / or minimum contrast between fleck / pattern, wood effect with no knots) and, in general, can be used throughout an interior design scheme.
As far as light reflectance value (LRV) is concerned, our flooring designs have values between 10 and 40% to avoid glare, something to which older eyes are sensitive.
Heterogeneous vinyl floors offer high durability for heavy traffic applications and many creative solutions for dementia-friendly interior designs.
Compact homogeneous vinyl floorings are tough and ultra-durable solutions for heavy and very heavy traffic areas, especially recommended for applications in healthcare-related environments for their resistance and ease of cleaning.
In aged care facilities, the noise can create anxiety and be an obstacle to interacting with companions. It is therefore important to use acoustic floors solutions as well as sound‑absorbent materials to dampen sound levels.
Choosing the right slip-resistant flooring can prevent accidents and ensure overall safety for areas that present a risk of slips and falls. With a safety floor, slipping and falling risks may be reduced both for residents and for staff.
Flexible, easy to install and maintain, our wallcoverings are designed for corridors and resident rooms, and also coordinate with our flooring in keeping with dementia-friendly design recommendations.
Our complete wetroom solution, including walls, floors and accessories, provides easy access, safety and comfort, reassuring elderly people with reduced mobility that they can wash safely and easily.
References within elderly care