Create an account and benefit from:
Easy sample ordering

Access to order history

Simplified contact with Tarkett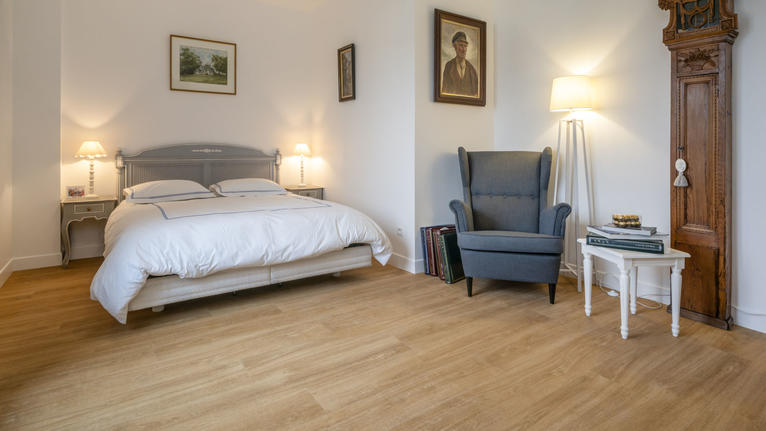 La Maison des Sages
2021 | Les Loges-en-Josas, France
La Maison des Sages, an inclusive housing solution in France for Alzheimer patients, partnered with Tarkett to install a wood décor flooring, in order to create a warm and home-like ambiance.
In 2020, 1.2 million people in France suffered from Alzheimer's disease, the 4th leading cause of death in the country. In response to this, L'Immobilier Solidaire & Associatif (a housing center managed by a solidarity association) and La Maison des Sages came together to provide an innovative and alternative solution – inclusive housing. This is a form of shared housing that offers residents support services and helps them integrate into community life.
La Maison des Sages was renovated to adapt to the cognitive and motor difficulties of its eight residents. This allows them to:
Live in a friendly environment and feel at home

Live in a small community and feel included in society

Live near their home

and remain close to family

Benefit from a 24-hour support team of city health professionals

Have secure spaces that take into account loss of autonomy, while preserving a home-like atmosphere
Interview with Karine Porte, Architect, MA Agency and Alexandre SCHMITT, Co-founder, La Maison des Sages.
What were your focus points when designing the house?
Alexandre Schmitt: We focused on keeping the hallways free of any obstacles, like bulky furniture, in order to prevent any falls. The sanitary facilities and the bedrooms were designed to be easy and simple to use. Lastly, the kitchen was made to be especially functional and open so that supervisors can easily observe the living and dining room areas while cooking.
Karine Porte: We were mainly focused on comfort and safety. We installed an elevator and custom-designed two rooms and two bathrooms for the residents with current reduced mobility and for those who may lose mobility over time. We also raised the railing of the central staircase by 1.2m, installed window blockers upstairs and equipped the showers with accessibility features, to guarantee a safe living space.
Can you explain the thought process behind designing the house?
Alexandre Schmitt: The concept of La Maison des Sages is to create a secure space that is tasteful yet home-like – a residence that is furnished like your parents' home. Soon, we will even be installing a piano! We deliberately did not want to create a medico-social establishment. This strongly appeals to the residents and their families. However, we did consider the function of each piece of furniture, always keeping the safety and comfort of the residents and caregivers in mind. For example, blackout curtains replace shutters to avoid bending over and there is no carpet in order to avoid tripping.
Karine Porte: We deliberately wanted to create a cozy atmosphere. The rooms are fully furnished by the residents, so their private space is familiar to them, helping them feel less lost. Also, La Maison des Sages was very helpful in telling us what to focus on, like placing a chair next to the shoe cabinet to make it easier to put shoes on.
Why did you choose a wood décor floor covering (Long Modern Oak Natural) for the bedrooms?
Alexandre Schmitt: Imitation parquet gives the house character and it doesn't look like vinyl at all! It goes well with the resident's furniture and in terms of proprioception it is comfortable and pleasant to the touch.
Karine Porte: The warmth of the wood reinforces the cozy feel of the house. This is why we kept the same décor in the hallways and bedrooms.
Why did you choose the Tapiflex Excellence range?
Alexandre Schmitt: The Tarkett Tapiflex Excellence flooring has good acoustic qualities, high durability and is easy to maintain. In a house of more than 360 square meters those are important features for a flooring.
 Karine Porte: There are no medical beds in the house, but there are some wheelchairs and there is a substantial amount of foot traffic, so we needed a strong and durable floor.
La Maison des Sages has just opened its doors. What feedback did it receive?
Alexandre Schmitt: We opened one month ago, and everyone seems to be happy. The caregivers are delighted to work in good conditions, in large spaces and with good equipment. The residents appreciate the functionality of the house, the separation between private and collective life and family visits. The families enjoy coming to this beautiful house, seeing their loved ones and also keeping in touch with the other residents.
Karine Porte: Families feel reassured. They particularly appreciate the brightness, the generous outdoor spaces and the family atmosphere of the house. It is a pleasant place for everyone. You feel good there pretty quickly.
Photographer: Briag Courteaux
Making conscious choices. For people and planet.




Tarkett Human-Conscious Design

TM

.
About
Discover La Maison des Sages, an inclusive housing solution for Alzheimer patients, partnered with Tarkett's flooring, to create a warm and home-like ambiance.
Designer/ Architect
Karine PORTE (agence MA)
Building owner
Alexandre SCHMITT