Create an account and benefit from:
Easy sample ordering

Access to order history

Simplified contact with Tarkett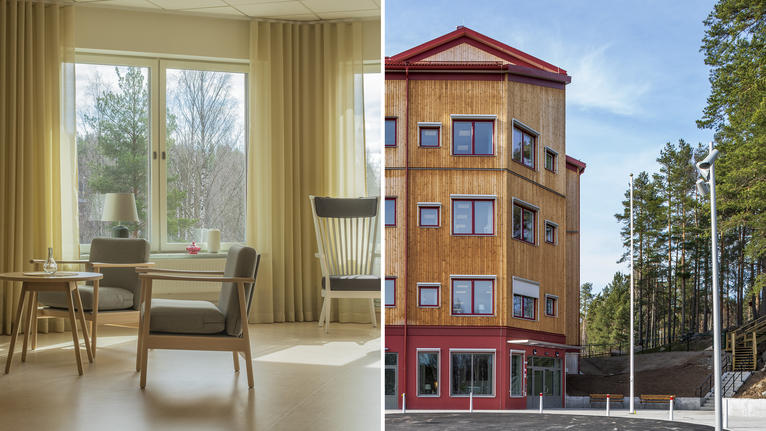 Slottet Falun
2021 | Falun, Sweden
When Falun Municipality and Sweco Architects built The Castle, a care facility for people with dementia, they based their design on healthcare staff experiences and resident needs.
Creating a healthcare environment for people with dementia is especially challenging, since it is a disease that is often combined with other ailments and requires a lot of care. A clean and safe environment is not enough. Every resident must feel independent, yet part of a community, have access to nature and exercise facilities in order to practice physical activity and be exposed to an aesthetically pleasing surrounding.
This is why the care facility in Slottet Falun in Sweden was created – to provide a safe, independent and attractive environment for people suffering from dementia. Here are some examples of how Sweco Architects did just that:
The residents' rooms are positioned next to each other and facing the courtyard, living room or kitchen. This avoids a hotel-like feel of a long corridor with many individualised rooms.
The kitchen is a place where meals are eaten and shared, however each apartment has a kitchenette, offering independence and privacy if desired.

Low windows in each apartment provide views of the city and nature, at bed level. This is ideal since the building is located in Bojsenburg, a central district, and is surrounded by a park-like forest, which the residents have easy access to.

There are greenhouses available to everyone, each floor has its own terrace and there is a common spa area. 
Both location and layout have been adapted so that no one feels alone, while encouraging movement and independence in both a stimulating and safe environment.
"When designing an elderly care facility, we aim to create a space that provides peace, security, harmony and visibility. We have found that using care staff experiences and understanding the residents' everyday life has been very helpful.
The Castle consists of 60 apartments and four floors. The entire building, including the facade, is built of Swedish wood and equipped with solar panels. Each floor has been painted a different color so that the residents can easily orient themselves and the color choice is based on the request to create a calm and uniform feeling.
The floors in the rooms are covered with Tarkett's iQ Optima Acoustic, the bathrooms are covered with Tarkett's Granit safe.T and the walls are covered with Tarkett's Wallgard wall covering.
We chose these floorings for their cleanability, their softness and for their non-slip features. Additionally, it is easy to roll beds and walkers over them. These floors add to a good indoor-air quality, which is a priority for care facilities and nursing homes."
 Ann-Birgitt Andersson, Architect at Sweco Architects
 
Making conscious choices. For people and planet.
Tarkett Human-Conscious DesignTM.
About
Discover the new care home in Falun, Sweden. This safe environment for people suffering from dementia is covered in Tarkett's homogeneous flooring.
Designer/ Architect
Sweco Architects
Building owner
Falu Kommun