Circular Selection – Our recyclable products
What is Circular Economy?
"A circular economy is based on the principles of designing out waste and pollution, keeping products and materials in use, and regenerating natural systems." - The Ellen MacArthur Foundation.
At Tarkett, we are committed to changing the game towards circular economy.  This is why we develop products that are made from good materials and contribute to a better indoor environment.  We are convinced that a circular approach is the right strategy to save the earth's resources, reduce waste and help slow down global warming.
This is our promise to the generations of today and tomorrow - we call it Tarkett Human-Conscious Design ™.
In 2019, we launched a ground breaking technology that washes away adhesive and subfloor residue from uplifted vinyl floors. Shortly afterwards, we opened our Carpet Recycling Centre in Waalwijk, the Netherlands, that can separate the yarn from the backing on old carpet tiles. 
But it's not just about technical solutions, the whole chain from construction to recycling must work. 
Therefore, we work extensively with the customers and partners enrolled in our ReStart programme, to collect post-consumer flooring waste.
"Recyclable. Endlessly"
We want to show that circular economy is real and we aim to be a role model that inspires others by turning words into action. Our Circular Selection is a way to show how far we have come.
The Circular Selection brings together all of the products for which we currently have a functioning collection system, and where the collected material is recycled into new raw material for future Tarkett flooring. Our ambition is to continue to expand this collection by investing in new technologies and increasing the number of products qualified for our ReStart programme.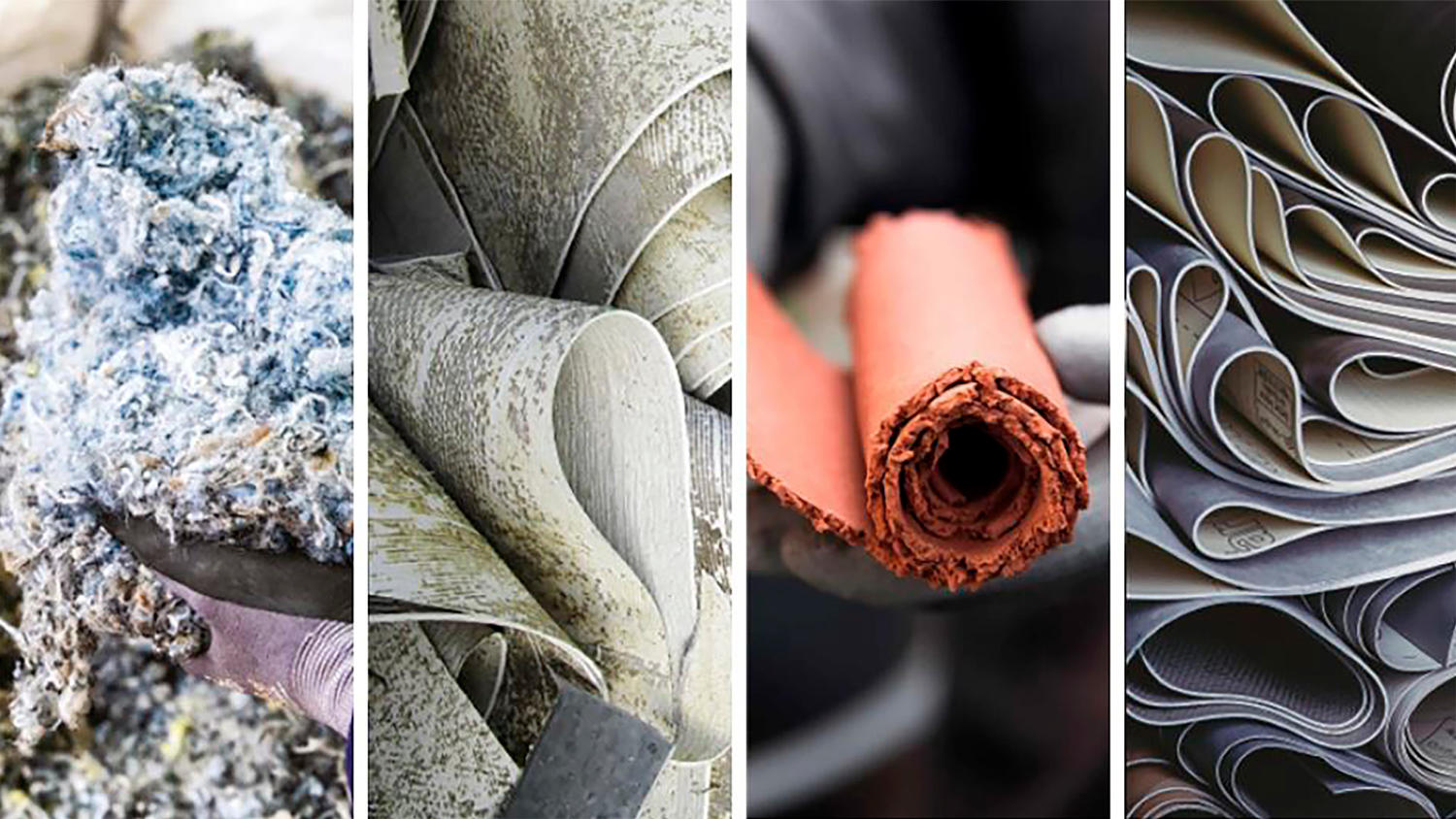 The criteria for the Circular Selection
The criteria for the floors included in the Circular Selection is that they are 100% Closed-Loop recyclable, which means that:
•    The product qualifies for our ReStart collection programme
•    The collected material is transported to one of our recycling facilities
•    The floor is recycled into raw material for new Tarkett floors
The products in the Circular Collection are not only recyclable, they are also phthalate-free and have low VOC emissions. They also have independently verified EPD (Environmental Product Declarations) and MHS (Material Health Statements).
 
Flooring Categories in the Circular Selection
Our carpet tiles with PA6 yarn. These collections are available in a variety of designs in many different patterns, structures and colours, suitable for both offices, schools and hotel environments. They are produced in Waalwijk, the Netherlands and are returned to our Carpet Recycling Centre that is also based in Waalwijk. See all our carpet tile collections. 
We can even take back and recycle older carpet tiles, including competitor products that come with loop pile PA6 yarn. 
Luxury Vinyl Tile - iD Square. Specifically crafted by our Tarkett design studio, our iD Square collection comes in 50 designs and 7 formats that can be mixed together for creative flooring designs.  It can also be combined with our DESSO carpet tile collections, for seamless transitions and endless possibilities. See all our luxury vinyl tiles. 
We can recycle post-use iD Square flooring that has been installed with a release-bond 'tackifier' adhesive or Tarkett Tape™. The recycled product is then used as raw material in the manufacture of new iD Square floors and other heterogeneous vinyl floors. 
Heterogeneous vinyl - Acczent Excellence Genius. As a loose lay flooring manufactured in the EU, our Genius collection is the perfect flooring solution for new buildings with damp subfloors (up to 7% Moisture Content using the Calcium Carbide Method) and existing buildings with multiple subfloors.  The glue free installation is ideal for projects where rapid renovations are required, as the product can be installed and removed quickly.  
Once used, Genius flooring can be uplifted without adhesive residues or sub-floor contamination, and sent back to our own recycling facility in Clervaux, Luxembourg where it is granulated for use as new raw material in Tarkett floors. 
Homogeneous vinyl - the iQ collections. Our iQ Collections are manufactured in Sweden and have been developed to meet the high demands for durability, hygiene and cleanability in public environments. 
In our facility in Ronneby, we are now able to recycle not only post-installation waste, but also post-use flooring. 
In addition to the floors we sell today, we can also take back and recycle flooring that is up to 10 years old, without risking the reintroduction of unwanted substances into the cycle. 
Tarkett's linoleum collections. Made in the small village of Narni in Umbria, Italy, our linoleum is one of the most natural flooring solutions on the market.  Following the original 1898 recipe, our linoleum is made with linseed oil, wood and cork flour, resin and jute fabric.
The collections are available in a range of traditional marbled patterns with vivid and deep colours. Treated with our unique xf²™surface protection, our linoleum products are extremely durable, easy to clean and are cost-effective to maintain. 
In our factory in Italy, we have developed technology to recycle production and installation waste. We have now refined the same technology to also be able to recycle post use linoleum floors from Tarkett.
Climate savings from recycling
At Tarkett, we think a circular economy approach is crucial to reducing our climate impact.  By recycling more, we can ensure that waste does not go to landfill or incineration, and we can then replace virgin raw materials with recycled material.  Burning vinyl, linoleum and textile flooring emits around 5 kg of CO2 for every square meter burned. The extraction of virgin raw materials also involves greenhouse gas emissions of the same magnitude.
Examples of climate savings in recycling
The climate savings from recycling consist of:
•    Zero emissions from incineration
•    Emission reduction from using recycled material in place of virgin raw materials
Taking into account both of these savings, plus the emissions from the recycling process, the climate savings will be as follows:
•    1 sqm post-consumer 2mm homogenous vinyl flooring: 9.8 kg CO2-eq
•    1 sqm post-consumer 2.5 mm linoleum: 5.6 kg CO2-eq
•    1 sqm post-consumer carpet tiles with PA6 yarn and EcoBase backing: 9.9 kg CO2-eq
Climate and circular economy
We're committed to creating a circular economy. Closing the loop on waste, preserving natural resources and reducing the impact of climate change.
Relentless scientific testing of materials and radical transparency for your peace of mind.
Leading the way in Indoor Air Quality, so you can breathe easy.