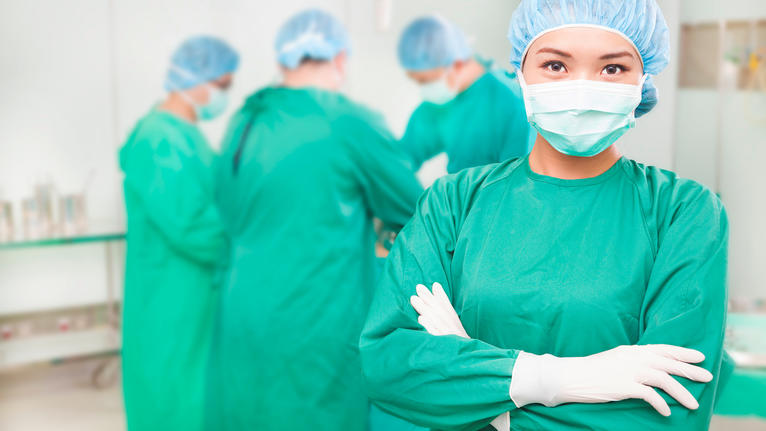 Why flooring is important
Studies show that a hospital's environment can play a significant role in enhancing patients' experience, accelerating their recovery time and promoting a sense of well-being. Good design not only contributes to a healing environment, it provides a better working environment for staff, this in turn delivers economic benefits related to improved patient outcomes and staff productivity. Hygiene and infection prevention are a priority, it is imperative that the floor inhibits the spread of bacteria and viruses such as SARS-CoV-2, it has to be easy to clean to prevent dirt build-up, provide resistance to the repeated use of chemicals and disinfectants and allow for heavy traffic.
A good hospital floor also needs to provide good walking comfort but at the same time low rolling resistance to prevent staff fatigue. It needs to meet fire safety standards and be able to handle static electricity. Of course, hospital floors must also be durable with a lengthy life cycle which is good both from an environmental point of view but also an economic.
Being admitted to a hospital is a stressful experience for most and it comes at a time when the individual is already feeling unwell. The use of colour can help enhance a patients perception, spatial orientation and sense of surroundings. Colourful designs also make for attractive areas that provide a reasuring and welcoming atmosphere, not only for the patients but visitors and staff. Designing with a dedicated palette of colours and incoporating the principles of biophilic design can help promote wellbeing.
To read more about designing healing environments download our Healthcare Solutions Guide or feel free to contact us to discuss a project or requirement you may have.
Insights & Considerations
Our commitment to providing high quality flooring solutions to the healthcare sector has been recognised, and we are once again listed as an approved supplier on the ProCure22 Framework.
Infection Control and Flooring
Discover how to optimise infection prevention and control by choosing the right floors in hospitals to prevent the spread of healthcare-associated infections and antimicrobial resistance.
Maintaining good indoor air quality can have a hugely beneficial effect on patients and medical staff who spend the majority of their time inside.
The application of colour, pattern and texture
Applications of colour, pattern and texture can help positively influence the behaviour of patients, their families and care staff.
A solution for every space
Areas where patients receive treatment and care—such as dialysis, intensive care, and rehabilitation care—must be comfortable and clean at all times.
Cleanrooms & Operating Theatres
In areas with a high risk of hospital-acquired infections—such as operating theatres, medical laboratories and cleanrooms—floors must meet the highest hygiene standards to ensure infection control and air cleanliness.
Studies have shown that patient rooms that feel like home can improve patient recovery and positively influence the way patients interact with their visitors. Our floors create a calm, clean, and comfortable healing environment.
Hospital reception and common areas should be clean, welcoming, and inspire confidence. A well-conceived floor layout also helps visitors and staff find their way around the building.
In a busy hospital corridor where equipment and patients are constantly on the move, flooring needs to be durable, resistant to heavy traffic, with minimum rolling resistance.
Restaurants, Canteens & Cafeterias
Hospital reception and common areas should be clean, welcoming, and inspire confidence. A well-conceived floor layout also helps visitors and staff find their way around the building.
We recognise that easy-to-maintain flooring is the key to spotless bathrooms and toilets. That is why we limit the number of joints for watertight installations. Whether using or cleaning wet areas, we want patients and staff to feel comfortable and be protected at all times.
We learned that during sensitive procedures, it is important that both patients and healthcare professionals feel at ease in a clean and hygienic environment.
We know how important it is to keep medical spaces sterile and free from contamination to prevent infection and illness.
Staff in healthcare facilities need a calm atmosphere to focus on their analytical and administrative tasks. We offer floors that can reduce noise levels and improve air quality.
In areas with sensitive electronic equipment, including large computers and servers, electrostatic discharges can cause discomfort to people and create serious electronic damage.
Staircases are sensitive areas that need to be safe. Our solutions are designed to help people find their footing quickly and assist the visually impaired to orient themselves.
Vinyl wallcoverings protect walls in heavy traffic areas against impacts, shocks, scratches and stains. Flexible and easy-to-install, they help to lower repair and maintenance costs.
Safety Flooring with its increased embossing can prevent accidents, ensure overall safety for areas and reduce risk - making it the perfect choice for all establishments.
Acoustic floors are manufactured to offer both excellent impact sound reduction, sound absorption and good resistance to indentation.
You may also be interested in:
References within healthcare