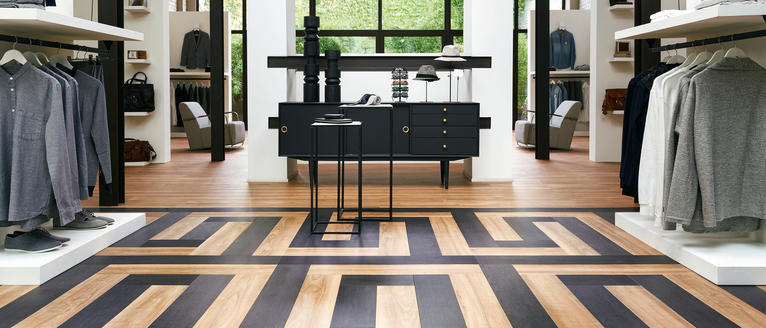 Floors that strengthens your brand!
Strengthen your brand with a decor that harmonizes with your business. Tarkett has floor solutions for all parts of the store - for a welcoming, designed and durable entrance or hygienic and non-slip surfaces. With a wide range of materials, colours and patterns, it is possible to create a desired atomic sphere and to control the store's customer flows. Also remember to choose a sustainable floor solution with easy installation and cost-effective maintenance.
Recommended floors for shops
When it comes to our LVT floors, the design possibilities are almost endless. The floors are manufactured in both plank and tile formats in a variety of colours, patterns and qualities.
Heterogeneous flooring offers a varying solution for all types of installations. They are available in many different designs and constructions to suit both the home environment and high-traffic areas such as schools and hospitals.
In hospital and school corridors where crowds of people and equipment pass daily, the floors are exposed to heavy wear. Therefore, a floor that has a long functional and aesthetic durability is required.